Balmoral Hotel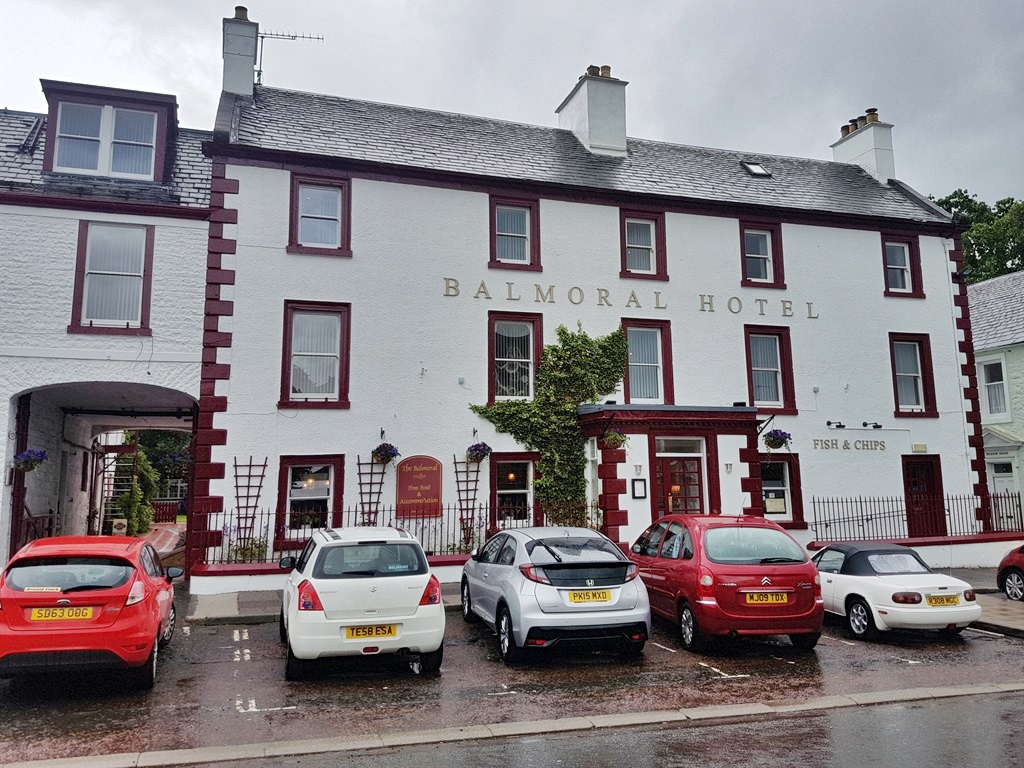 The Balmoral is a traditional Scottish coaching Inn located in the lovely small town of Moffat, Dumfriesshire. We offer great food and accommodation and if you are looking for a friendly welcome in a relaxed and informal setting then we are sure you will enjoy your stay with us in Moffat.
We provide tasty Scottish fayre to both residents and non-residents all day from 11.30am - 9pm. All our food is locally sourced as far as possible. Complimentary Wi-Fi is available throughout our hotel.
All our bedrooms are all en-suite with tea and coffee making facilities. We also have a small fridge in which we supply fresh milk. All rooms have WI-FI access and also a television with freeview and built in DVD player. Breakfast is served in the main hotel building across the courtyard.
Our cottages are let on a fully serviced basis and are not self catering. Ideal for couples seeking a little extra privacy and space.
Each cottage has a ground floor sitting room with television,tea and coffee making facilities. The bedroom and bathroom are on the first floor.
The hotel is located in the middle of the high street. The high street itself offers many unique shops which cater for everyone's needs.
Moffat is quite unique in that parking is free at all times on the high street at the front of the hotel. No discs - no tickets.
Équipements
Consigne à bagages
Bar
Internet haut débit gratuit
Internet gratuit WiFi
Salon
Restaurant
Casier vélo sécurisé
Internet haut débit
Internet WiFi
Aménagements pour les enfants
Menu pour enfants
Chaises hautes
Services affaires
Facsimile
Photocopie
Imprimante
Option de repas
Petit-déjeuner (continental)
Petit-déjeuner (complet)
Déjeuner
Dîner
Petit déjeuner gratuit
Activités et Experiences
Observation d'animaux
Tir à l'arc
Badminton
Billard / Snooker
Observation des oiseaux
Navigation de plaisance
Cyclisme
Jeu de fléchettes
Haute cuisine
Pêche
Pêche à la mouche
Football
Paris et jeux d'argent
Golf
Lac
Vélo de montagne
Musées/Galleries d'art
Shopping
Antiquités - Marchés aux puces
Tennis de table
Tennis - extérieur
Théâtre
Volley-ball
Randonnée pédestre